CUSTOMISE & REWORK SERVICES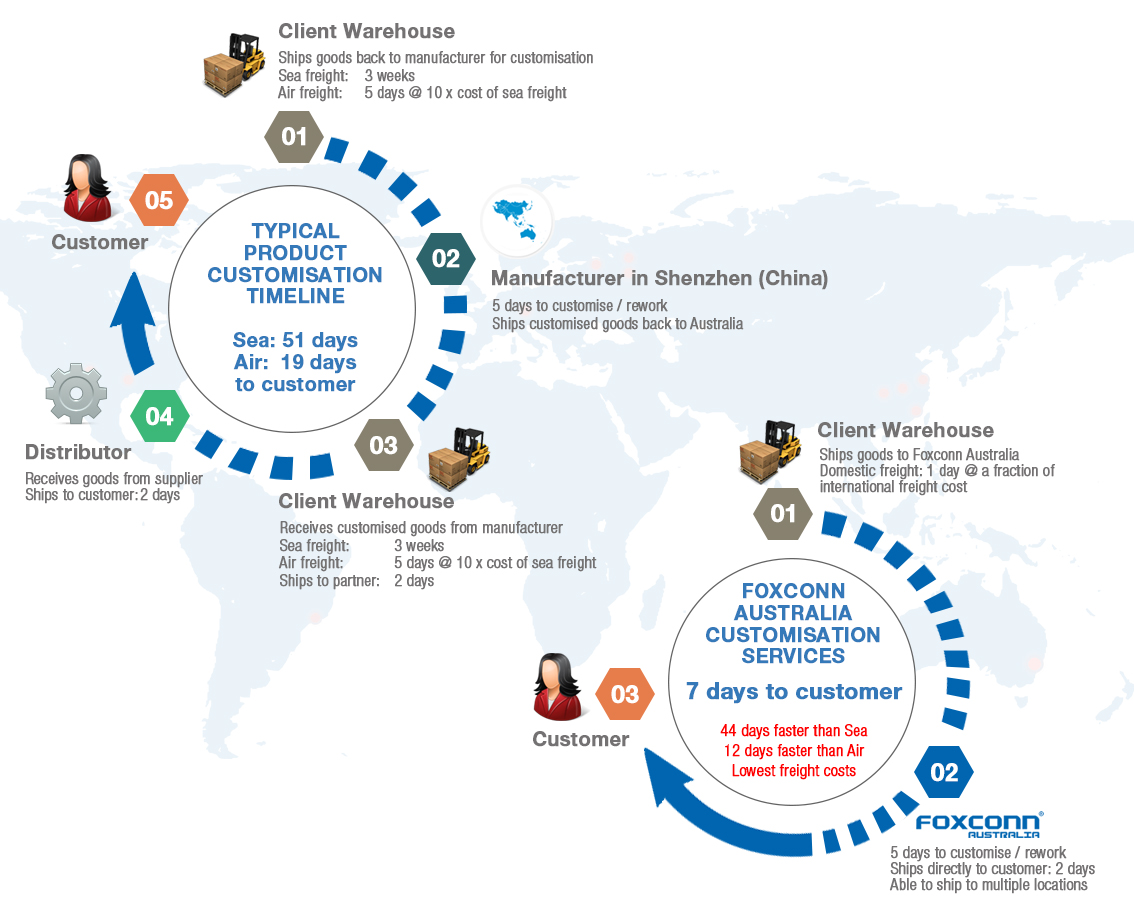 At Foxconn we understand that for a business to remain competitive, it needs to be flexible and agile in responding to changing customer needs.
We also understand that many businesses are not geared to deal with sharp spikes in demand for this type of work. A sudden request from a customer on a last minute change of specification on a large volume of product can result in a high cost to rework, delayed time to market and quality compromises. Scaling a trained workforce to quickly address the requested changes and deliver a quality output is not easy, particularly where a large volume of products is involved.
Located within our factory is the Regional Value Centre which is dedicated to delivering high end customised solutions for both Business and Consumer customers. The RVC is designed for customers with complex requirements, including software and image deployment, multi-client product integration/staging, data centre rack integration/staging and major product recall rework.
Some Australian businesses choose to ship products back to the country of manufacture, which not only entails the cost to transport but also the time taken to ship and return the customised goods. Shrinking this time is typically a factor of expense, choosing to ship via the more costly air method rather than sea.
The graphic shows a typical timeline of sending products from Sydney to Shenzhen (China) for rework, compared to engaging Foxconnn Australia. Because we are capable of shipping to multiple locations directly from our facility, we are able to place products straight into your customer's hands. In this example, we can save up to 44 days when using sea freight or 12 days when using Air. Additionally, you will also save money with domestic freight to Foxconn Australia, being typically more than 50% lower cost than International Sea and up to 1,000% lower cost than International Air in the example.
We have developed processes and systems that ensure we are agile and responsive to clients changing requests while maintaining a relentless focus on quality outcomes. Our QuickStart Staff program enables us to immediately ramp capacity to meet the most demanding timelines and highest volume project requests. Our inventory, logistics and manufacturing systems enable detailed tracking of every step of the process to ensure a quality outcome, every time.
Following is an overview of functions we perform as part of our Customise and Rework services.
Software image loading and changes
Firmware customisation and changes
Component replacement and repair
Asset tagging
Multiple products configured to work together delivering a "solution in a box"
In box literature and other item changes
Power cord tagging and testing
If you need to rework or customise electronic products, we can help. Contact us to discuss your requirements and join some of the world's leading brands working with us.
HIGH QUALITY OUTCOMES, EVERY TIME – THE FOXCONN ADVANTAGE